2 min to read
Reliance 43rd AGM 1st Virtual Event summary
Google, Facebook, Intel, Qualcom, Microsoft as partners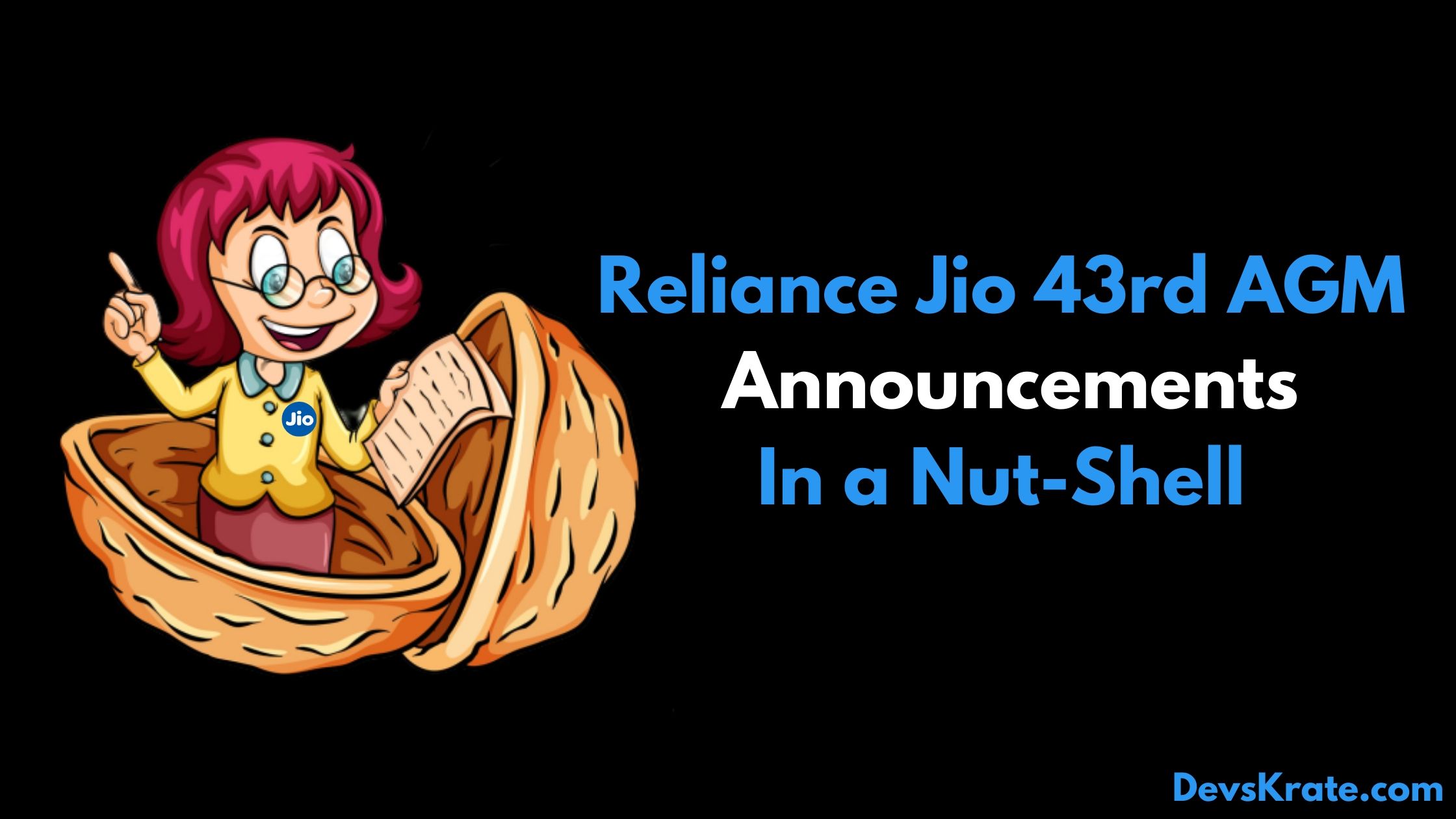 In the 43rd Reliance AGM event, reliance has announced many new things. Here is the summary of it..
Reliance has raised over Rs 1 lakh crore from Jio Platforms by selling 25.24 per cent stake to marque investors at nearly Rs 5 lakh crore valuation in the last few months. Ambani has promised to make Jio a public company in the coming five years and today he could announce future plans and how he expects to achieve the goal.
Partnership:
Many of the Tech gaints and big companies had invested in the jio platforms..
Facebook

Ambani said that this partnership will help many Indian small merchants and kirana shops. With this now you can transact with jio mart and whatsapp with the kirana shops.

Google

With partnership with google, jio is going to k=make a new operating system based on Android, built focusing on Indian's.
Their goal is reach 5g phones to everyone with affordable and usable to everyone.

2G Mukth

There are many partnerships with companies like SilverLake, Vista Equity partner, General Atlantic, KKR, TPG, LCatterton, Intel, Qualcomm, Microsoft, Facebook and Google.
Jio Glasses:
In the AGM event, reliance also announced it's Jio Glasses. These are connected to phone and you get the speakers built-in. You can have 3D calls or 2D calls. You can read more about jio glasses here
Jio Tv+ :
In the AGM event, reliance also introduced it's Jio tv+ setup box. We think it is gonna make a huge change in the TV and as well as OTT services like Netflix, Prime etc.. Here is the link to read more about it: Jio tv+
Jio meet :
In the AGM event, reliance also introduced it's video conferencing app Jio meet, before this event it's images have been leaked and it is pretty similar to Zoom app.
You can download it from playstore here or you can access from the website here
100 number of people can join in it and can meet with 24hr limit. Yup, it's a cool thing!
Jio Education - EMBIBE :
Embibe is a new learning platform by Jio.
Personalized education to help every student realize their true potential.
It is some what different compared to other learning platforms. You can try it out at https://www.embibe.com/
Jio 5G:
Reliance also announced that it has built 5G from scratch about to start the trails in India after the availability of 5G spectrum. In next year it is gonna deploy. Iif the trials are success it will export to the other Telecom's around the world.
Here is the link to read more about it: Jio 5G and os